As opposed to lymphoma, which involves cancer of the tissues, Leukemia in Dogs is a related type of cancer involves that cancerous cells in the blood.
Patients can have both phases of disease: Canine Leukemia and lymphoma. For example: a patient with Stage V Canine Lymphoma is a patient with leukemic lymphoma, meaning the cancer is both in organ tissue and in the bone marrow or blood. However, patients can have Canine Leukemia without having lymphoma, which means it is just in the bone marrow, but not in organs.
Statistically, Leukemia in Dogs is pretty rare, although some patients may be diagnosed with BOTH Canine Leukemia and Lymphoma. In fact, this is technically the definition of "Stage 5 Canine Lymphoma" as discussed in the section on Canine Lymphoma Stages.
Recommended treatment protocols for patients with Leukemia in Dogs vs. Canine Lymphoma are essentially identical, but unfortunately the success rate for treating patients with Canine Leukemia (both in terms of the likelihood of remission and the potential length of remission) is significantly worse than the prognosis for other Canine Lymphoma patients.
Note: There are high grade and low grade forms of lymphoma and Leukemia in Dogs, and distinctions should be made between lymphoid and myeloid leukemias. Lymphoid leukemias are derived from lymphocytes and myeloid leukemias derived from other types of white blood cells. The prognosis for "low grade leukemia" (also called small cell leukemia or chronic lymphocytic leukemia) is relatively good, and it is a treatable disease with a prognosis often equal to or greater than 2 years in duration. This is vastly different than the prognosis for "acute lymphoblastic leukemia" or a "high grade lymphoblastic leukemia" which has a very poor prognosis. We use the term lymphocytic for low grade disease and lymphoblastic for high grade disease. These terms refer to the cell size and maturity.


For more free Canine Lymphoma information, downloads and support - and
for help with your dog's cancer care – visit our sister Charity website
"The Dog Cancer Tribe" at www.DogCancerTribe.com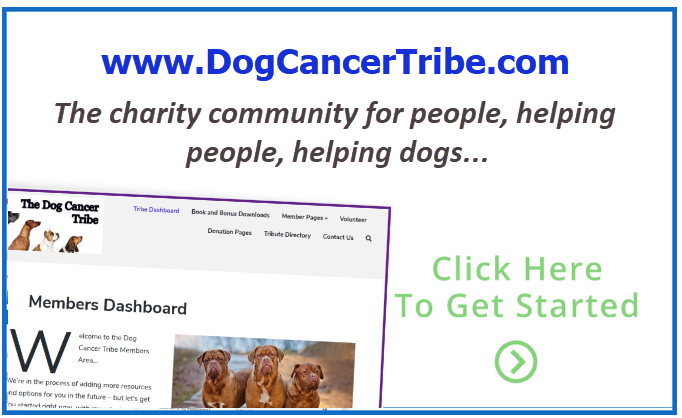 ———————
Note: The information on this website is intended for research and informational purposes only. It is not to be used to diagnose or treat any disease, and should not be used as a substitute for proper veterinary consultation and care. Every dog and every cancer case is different, so if you fear that your dog has Canine Lymphoma, we encourage you to seek appropriate professional veterinary care as quickly as possible to determine the best course of action to treat your dog and his or her particular circumstances.
———————